Hand Made Fire boxes and Grills
Click on the image to see more photos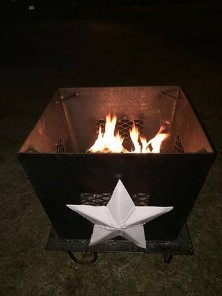 Here's your opportunity to buy SMART and buy ONCE.
This is a MUST HAVE for outdoor enthusiasts. These fireboxes are constructed from a low alloy diamond cut 1/8" plate. The legs are a 'J' shaped foot which is bent from cold rolled round bar to keep your box lifted off the ground.
Each box comes equipped with a trap door for emptying the box.
There is a wood rack installed in the bottom so that oxygen can get to all sides of your flame and keep your fire going for hours. All 4 sides of the fire box have a cut out for ventilation but are covered with expanded metal to keep ash and soot from flying out.
The tops of the fireboxes have a removable cover made from expanded metal that is great for grilling on or just admiring the fire as it burns. Additionally, we have designed a tool that is supplied with each box for lifting the cover off safely.
The exterior of the box is painted with a high temperature tolerant heat.
We've added hand cut ornamental décor to 1 side to give these fireboxes a little unique touch. We currently have the Star and the Longhorn. If you would like a different ornament, that's not a problem, we have done many other designs, all you have to do is let us know and send us the picture of what you would like.
Unless requested otherwise, we paint the ornaments in a high temperature tolerant paint.
The approximate dimensions are 20"high x 20"deep x 20"wide
These great pieces will last you forever! Steel doesn't care if the temperature drops right after you had a fire burning in it! They won't crack and fall apart!
You can even take this with you camping! Add onto your order the universal sized hitch attachment! The bottom of the firebox requires slight modifications to the design of the trap door so if you are thinking about it but not quite sure, go ahead and do before we build your box!
These are hand made from start to finish so there may be slight variations from the images shown ahead.
Please don't hesitate to ask us any questions or if you would like to see more photos before committing to your purchase
Thanks for your interest
******************************************************************************************
Hand Made Fire Wood Rack
Click on image to see more photos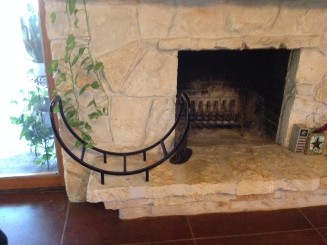 This wonderful piece is fully functional and yet a great piece of décor to add to your fireplace or next to a grill on your patio.
This rack is formed from 1" Square tubing and welded to 4 feet that keep your wood dry and off the ground.
Approximate dimensions are x 21" high x 12" deep x 33 1/2" length
This durable piece is very robust and will withstand the outdoor elements. The steel is treated with a clear top treatment to eliminate rusting without losing that 'gun metal' coloring; bringing to you a clean wrought iron look.
These are hand made from start to finish so there may be slight variations from the images shown ahead.
Please don't hesitate to ask us any questions or if you would like to see more photos before committing to your purchase
Thanks for your interest